Square Telescopic Tubes
SQT
View Larger Image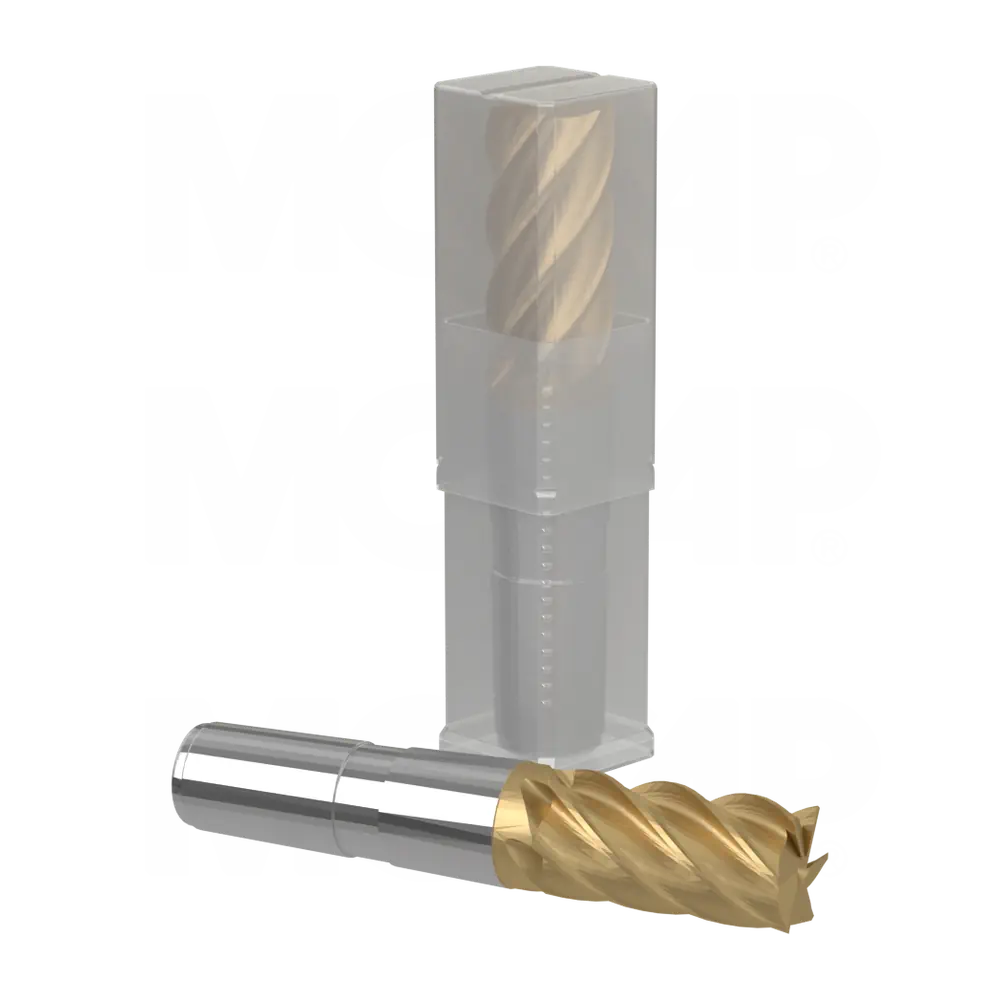 Material: PP (Polypropylene), HDPE (High Density Polyethylene), PVC (Poly Vinyl Chloride)
Stocked Material: PP (Transparent), PVC (Clear)
Durable, Reusable and Resistant to Contaminates and Moisture
Adjustable Telescopic Length
Ratchet-Style Length Adjustment
Excellent for Stacking
Available With or Without Hanger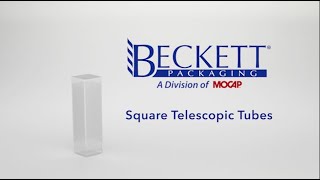 Reference #
Description
To Fit Part Width

To Fit Part Length Min

To Fit Part Length Max


Box

/

Mini

/

Micro


QTY
STD
STD
w/msg
Hang
Hang
w/msg

Buy Online

SQT08048
Square Telescopic Tubes - 5/16X1-7/8-3 (08X48-76MM) SQ TELESCOPIC

0.315

48.0

1.890

76.0

2.992

1250

250

25

✓
SQT08077
Extendable Tube - 5/16X3-3 (08X77-128MM) SQ TELESCOPIC

0.315

77.0

3.032

128.0

5.039

750

150

15

✓
SQT08091
Packaging Tubes - 5/16x3-9/16-6-1/8 (08X91-156MM) SQ TELESCOPIC

0.315

91.0

3.583

156.0

6.142

1200

240

24

✓
SQT08120
Ratchet Length Tube - 5/16X4-3/4-7-7/8 (08X120-200MM) SQ TELESCOPIC

0.315

120.0

4.724

200.0

7.874

1200

240

24

✓
SQT08200
Adjustable Length Plastic Tubes - 5/16X7-7/8-13-3/4 (08X200-350MM) SQ TELESCOPIC

0.315

200.0

7.874

350.0

13.780

900

180

18

✓
SQT10056
Protective Packaging Tube - 3/8X2-3/16-3-1/2 (10X56-89MM) SQ TELESCOPIC

0.394

56.0

2.205

89.0

3.504

750

150

15

✓
✓
SQT10079
Square Telescopic Tube - 3/8X3-5 (10X79-127MM) SQ TELESCOPIC

0.394

79.0

3.110

127.0

5.000

1250

250

25

✓
✓
SQT10108
Variable Length Tubes - 3/8X4-1/4-7-1/4 (10X108-183MM) SQ TELESCOPIC

0.394

108.0

4.252

183.0

7.205

1800

360

36

✓
✓
SQT10181
Square Telescopic Protective Packaging Tubes - 3/8X7-1/8-12-3/8 (10X181-315MM) SQ TELESCOPIC

0.394

181.0

7.126

315.0

12.402

1000

200

20

✓
✓
SQT10250
Square Telescopic Tubes - 3/8X9-7/8-18-1/8 (10X250-460MM) SQ TELESCOPIC

0.394

250.0

9.843

460.0

18.110

900

180

18

✓
✓
SQT12050
Extendable Tube - 7/16X2-3-1/8 (12X50-80MM) SQ TELESCOPIC

0.472

50.0

1.969

80.0

3.150

1500

300

30

✓
✓
✓
✓
SQT12070
Packaging Tubes - 7/16X2-3/4-4-1/4 (12X70-110MM) SQ TELESCOPIC

0.472

70.0

2.756

110.0

4.331

1000

200

20

✓
✓
✓
✓
SQT12110
Ratchet Length Tube - 7/16X4-5/16-7-1/2 (12X110-190MM) SQ TELESCOPIC

0.472

110.0

4.331

190.0

7.480

1400

280

28

✓
✓
✓
✓
SQT12200
Adjustable Length Plastic Tubes - 7/16X7-7/8-13-3/4 (12X200-350MM) SQ TELESCOPIC

0.472

200.0

7.874

350.0

13.780

850

170

17

✓
✓
✓
✓
SQT12250
Protective Packaging Tube - 7/16X9-7/8-18-1/8 (12X250-460MM) SQ TELESCOPIC

0.472

250.0

9.843

460.0

18.110

800

160

16

✓
✓
✓
✓
SQT14048
Square Telescopic Tube - 1/2X1-7/8-2-3/4 (14X48-69MM) SQ TELESCOPIC

0.551

48.0

1.890

69.0

2.717

1300

260

26

✓
✓
✓
✓
SQT14065
Variable Length Tubes - 1/2X2-1/2-4 (14X65-101MM) SQ TELESCOPIC

0.551

65.0

2.559

101.0

3.976

1800

360

36

✓
✓
✓
✓
SQT14106
Square Telescopic Protective Packaging Tubes - 1/2X4-1/8-7 (14X106-178MM) SQ TELESCOPIC

0.551

106.0

4.173

178.0

7.008

2000

400

40

✓
✓
✓
✓
SQT14156
Square Telescopic Tubes - 1/2X6-1/8-9-7/8 (14X156-251MM) SQ TELESCOPIC

0.551

156.0

6.142

251.0

9.882

1400

280

28

✓
✓
✓
✓
SQT14182
Extendable Tube - 1/2X7-12 (14X182-310MM) SQ TELESCOPIC

0.551

182.0

7.165

310.0

12.205

1100

220

22

✓
✓
✓
✓
SQT14300
Packaging Tubes - 1/2X11-3/4-19-3/4 (14X300-500MM) SQ TELESCOPIC

0.551

300.0

11.811

500.0

19.685

500

100

10

✓
✓
✓
✓
SQT16050
Ratchet Length Tube - 5/8X2-3-1/8 (16X50-80MM) SQ TELESCOPIC

0.630

50.0

1.969

80.0

3.150

1700

340

34

✓
✓
✓
✓
SQT16076
Adjustable Length Plastic Tubes - 5/8X3-4-7/8 (16X76-123MM) SQ TELESCOPIC

0.630

76.0

2.992

123.0

4.843

1200

240

24

✓
✓
✓
✓
SQT16133
Protective Packaging Tube - 5/8X5-1/4-8-7/8 (16X133-227MM) SQ TELESCOPIC

0.630

133.0

5.236

227.0

8.937

1400

280

28

✓
✓
✓
✓
SQT16184
Square Telescopic Tube - 5/8X7-1/4-12-1/2 (16X184-319MM) SQ TELESCOPIC

0.630

184.0

7.244

319.0

12.559

1000

200

20

✓
✓
✓
✓
SQT20056
Variable Length Tubes - 3/4X2-3/16-3-1/8 (20X56-80MM) SQ TELESCOPIC

0.787

56.0

2.205

80.0

3.150

1100

220

22

✓
✓
✓
✓
SQT20081
Square Telescopic Protective Packaging Tubes - 3/4X3-1/8-5 (20X81-126MM) SQ TELESCOPIC

0.787

81.0

3.189

126.0

4.961

1700

340

34

✓
✓
✓
✓
SQT20123
Square Telescopic Tubes - 3/4X4-7/8-8 (20X123-205MM) SQ TELESCOPIC

0.787

123.0

4.843

205.0

8.071

1000

200

20

✓
✓
✓
✓
SQT20200
Extendable Tube - 3/4X7-7/8-13-3/4 (20X200-350MM) SQ TELESCOPIC

0.787

200.0

7.874

350.0

13.780

750

150

15

✓
✓
✓
✓
SQT20350
Packaging Tubes - 3/4X13-3/4-24-3/4 (20X350-630MM) SQ TELESCOPIC

0.787

350.0

13.780

630.0

24.803

220

44

4

✓
✓
✓
✓
SQT22050
Ratchet Length Tube - 7/8X2-3-1/8 (22X50-80MM) SQ TELESCOPIC

0.866

50.0

1.969

80.0

3.150

1000

200

20

✓
✓
✓
✓
SQT22070
Adjustable Length Plastic Tubes - 7/8X2-3/4-4-1/8 (22X70-103MM) SQ TELESCOPIC

0.866

70.0

2.756

103.0

4.055

1800

360

36

✓
✓
✓
✓
SQT22104
Protective Packaging Tube - 7/8X4-3/32-7 (22X104-171MM) SQ TELESCOPIC

0.866

104.0

4.094

171.0

6.732

1100

220

22

✓
✓
✓
✓
SQT22176
Square Telescopic Tube - 7/8X6-15/16-12 (22X176-305MM) SQ TELESCOPIC

0.866

176.0

6.929

305.0

12.008

500

100

10

✓
✓
✓
✓
SQT22200
Variable Length Tubes - 7/8X7-7/8-13-3/4 (22X200-350MM) SQ TELESCOPIC

0.866

200.0

7.874

350.0

13.780

650

130

13

✓
✓
✓
✓
SQT26050
Square Telescopic Protective Packaging Tubes - 1X2-3-1/8 (26X50-80MM) SQ TELESCOPIC

1.024

50.0

1.969

80.0

3.150

750

150

15

✓
✓
✓
✓
SQT26060
Square Telescopic Tubes - 1X2-3/8-3-1/8 (26X60-88MM) SQ TELESCOPIC

1.024

60.0

2.362

88.0

3.465

625

125

12

✓
✓
✓
✓
SQT26080
Extendable Tube - 1X3-1/8-4-3/4 (26X80-120MM) SQ TELESCOPIC

1.024

80.0

3.150

120.0

4.724

1000

200

20

✓
✓
✓
✓
SQT26098
Packaging Tubes - 1X3-7/8-6-1/2 (26X98-166MM) SQ TELESCOPIC

1.024

98.0

3.858

166.0

6.535

900

180

18

✓
✓
✓
✓
SQT26120
Ratchet Length Tube - 1X4-3/4-7-7/8 (26X120-200MM) SQ TELESCOPIC

1.024

120.0

4.724

200.0

7.874

650

130

13

✓
✓
✓
✓
SQT26189
Adjustable Length Plastic Tubes - 1X7-1/2-13-1/8 (26X189-335MM) SQ TELESCOPIC

1.024

189.0

7.441

335.0

13.189

650

130

13

✓
✓
✓
✓
SQT26350
Protective Packaging Tube - 1X13-3/4-24-3/4 (26X350-630MM) SQ TELESCOPIC

1.024

350.0

13.780

630.0

24.803

144

28

2

✓
✓
✓
✓
SQT32050
Square Telescopic Tube - 1-1/4X1-7/8-2-3/4 (32X50-70MM) SQ TELESCOPIC

1.260

50.0

1.969

70.0

2.756

450

90

9

✓
✓
✓
✓
SQT32080
Variable Length Tubes - 1-1/4X3-1/8-4-3/4 (32X80-120MM) SQ TELESCOPIC

1.260

80.0

3.150

120.0

4.724

910

182

18

✓
✓
✓
✓
SQT32100
Square Telescopic Protective Packaging Tubes - 1-1/4X4-6-1/4 (32X100-160MM) SQ TELESCOPIC

1.260

100.0

3.937

160.0

6.299

730

146

14

✓
✓
✓
✓
SQT32120
Square Telescopic Tubes - 1-1/4X4-3/4-7-7/8 (32X120-200MM) SQ TELESCOPIC

1.260

120.0

4.724

200.0

7.874

610

122

12

✓
✓
✓
✓
SQT32160
Extendable Tube - 1-1/4X6-1/4-10-1/2 (32X160-266MM) SQ TELESCOPIC

1.260

160.0

6.299

266.0

10.472

468

93

9

✓
✓
✓
✓
SQT32225
Packaging Tubes - 1-1/4X8-3/4-14-1/4 (32X225-360MM) SQ TELESCOPIC

1.260

225.0

8.858

360.0

14.173

310

62

6

✓
✓
✓
✓
SQT32350
Ratchet Length Tube - 1-1/4X13-3/4-24-3/4 (32X350-630MM) SQ TELESCOPIC

1.260

350.0

13.780

630.0

24.803

208

41

4

✓
✓
✓
✓
SQT35050
Adjustable Length Plastic Tubes - 1-3/8X2-2-3/4 (35X50-70MM) SQ TELESCOPIC

1.378

50.0

1.969

70.0

2.756

1000

200

20

✓
✓
✓
✓
SQT35060
Protective Packaging Tube - 1-3/8X2-3/8-3-1/8 (35X60-80MM) SQ TELESCOPIC

1.378

60.0

2.362

80.0

3.150

800

160

16

✓
✓
✓
✓
SQT35080
Square Telescopic Tube - 1-3/8X3-1/8-4-3/4 (35X80-120MM) SQ TELESCOPIC

1.378

80.0

3.150

120.0

4.724

900

180

18

✓
✓
✓
✓
SQT35120
Variable Length Tubes - 1-3/8X4-3/4-7-7/8 (35X120-200MM) SQ TELESCOPIC

1.378

120.0

4.724

200.0

7.874

600

120

12

✓
✓
✓
✓
SQT35200
Square Telescopic Protective Packaging Tubes - 1-3/8X7-7/8-13-3/4 (35X200-350MM) SQ TELESCOPIC

1.378

200.0

7.874

350.0

13.780

350

70

7

✓
✓
✓
✓
SQT35300
Square Telescopic Tubes - 1-3/8X11-13/16-21-1/4 (35X300-540MM)

1.378

300.0

11.811

540.0

21.260

235

47

4

✓
✓
✓
✓
SQT35350
Extendable Tube - 1-3/8X13-3/4-24-3/8 (35X350-620MM)

1.378

350.0

13.780

620.0

24.409

200

40

4

✓
✓
✓
✓
SQT40056
Packaging Tubes - 1-1/2X2-3/16-3 (40X56-77MM) SQ TELESCOPIC

1.575

56.0

2.205

77.0

3.032

410

82

8

✓
✓
✓
✓
SQT40086
Ratchet Length Tube - 1-1/2X3-3/8-5-1/8 (40X86-130MM) SQ TELESCOPIC

1.575

86.0

3.386

130.0

5.118

572

114

11

✓
✓
✓
✓
SQT40133
Adjustable Length Plastic Tubes - 1-1/2X5-1/4-8-1/2 (40X133-217MM) SQ TELESCOPIC

1.575

133.0

5.236

217.0

8.543

420

84

8

✓
✓
✓
✓
SQT40220
Protective Packaging Tube - 1-1/2X8-5/8-14 (40X220-356MM) SQ TELESCOPIC

1.575

220.0

8.661

356.0

14.016

227

45

4

✓
✓
✓
✓
SQT45060
Square Telescopic Tube - 1-3/4X2-3/8-3-1/8 (45X60-80MM) SQ TELESCOPIC

1.772

60.0

2.362

80.0

3.150

648

129

12

✓
✓
✓
✓
SQT45080
Variable Length Tubes - 1-3/4X3-1/8-4-3/4 (45X80-120MM) SQ TELESCOPIC

1.772

80.0

3.150

120.0

4.724

520

104

10

✓
✓
✓
✓
SQT45108
Square Telescopic Protective Packaging Tubes - 1-3/4X4-1/4-6-3/4 (45X108-172MM) SQ TELESCOPIC

1.772

108.0

4.252

172.0

6.772

400

80

8

✓
✓
✓
✓
SQT45160
Square Telescopic Tubes - 1-3/4X6-1/4-10-3/4 (45X160-266MM) SQ TELESCOPIC

1.772

160.0

6.299

266.0

10.472

250

50

5

✓
✓
✓
✓
SQT45225
Extendable Tube - 1-3/4X8-3/4-14-1/4 (45X225-360MM) SQ TELESCOPIC

1.772

225.0

8.858

360.0

14.173

185

37

3

✓
✓
✓
✓
SQT45350
Packaging Tubes - 1-3/4X13-3/4-24-3/4 (45X350-630MM) SQ TELESCOPIC

1.772

350.0

13.780

630.0

24.803

120

24

2

✓
✓
✓
✓
SQT52063
Ratchet Length Tube - 2X2-1/2-3-1/2 (52X63-88MM) SQ TELESCOPIC

2.047

63.0

2.480

88.0

3.465

225

45

4

✓
✓
✓
✓
SQT52112
Adjustable Length Plastic Tubes - 2X4-1/2-6-1/2 (52X112-163MM) SQ TELESCOPIC

2.047

112.0

4.409

163.0

6.417

297

59

5

✓
✓
✓
✓
SQT52165
Protective Packaging Tube - 2X6-1/4-10-5/8 (52X165-270MM) SQ TELESCOPIC

2.047

165.0

6.496

270.0

10.630

198

39

3

✓
✓
✓
✓
SQT52292
Square Telescopic Tube - 2X11-1/2-19-3/4 (52X292-500MM) SQ TELESCOPIC

2.047

292.0

11.496

500.0

19.685

112

22

2

✓
✓
✓
✓
SQT56060
Variable Length Tubes - 2-3/16X2-3/8-3-1/8 (56X60-80MM) SQ TELESCOPIC

2.205

60.0

2.362

80.0

3.150

432

86

8

✓
✓
✓
✓
SQT56080
Square Telescopic Protective Packaging Tubes - 2-3/16X3-1/8-4-3/4 (56X80-120MM) SQ TELESCOPIC

2.205

80.0

3.150

120.0

4.724

336

67

6

✓
✓
✓
✓
SQT56117
Square Telescopic Tubes - 2-3/16X4-3/8-7 (56X117-177MM) SQ TELESCOPIC

2.205

117.0

4.606

177.0

6.969

216

43

4

✓
✓
✓
✓
SQT56180
Extendable Tube - 2-3/16X7-11-3/4 (56X180-300MM) SQ TELESCOPIC

2.205

180.0

7.087

300.0

11.811

144

28

2

✓
✓
✓
✓
SQT56350
Packaging Tubes - 2-3/16X13-3/4-24-3/8 (56X350-620MM)

2.205

350.0

13.780

620.0

24.409

72

14

1

✓
✓
✓
✓
SQT65080
Ratchet Length Tube - 2-1/2X3-1/8-4-3/4 (65X80-120MM) SQ TELESCOPIC

2.559

80.0

3.150

120.0

4.724

240

48

4

✓
✓
✓
✓
SQT65127
Adjustable Length Plastic Tubes - 2-1/2X5-7-1/2 (65X127-191MM) SQ TELESCOPIC

2.559

127.0

5.000

191.0

7.520

154

30

3

✓
✓
✓
✓
SQT65197
Protective Packaging Tube - 2-1/2X7-3/4-12 (65X197-305MM) SQ TELESCOPIC

2.559

197.0

7.756

305.0

12.008

92

18

1

✓
✓
✓
✓
SQT65300
Square Telescopic Tube - 2-1/2X11-3/4-19-3/4 (65X300-500MM) SQ TELESCOPIC

2.559

300.0

11.811

500.0

19.685

67

13

1

✓
✓
✓
✓
SQT65350
Variable Length Tubes - 2-1/2X13-3/4-24-3/8 (65X350-620MM)

2.559

350.0

13.780

620.0

24.409

56

11

1

✓
✓
✓
✓
SQT77090
Square Telescopic Protective Packaging Tubes - 3X3-1/2-5-1/8 (77X90-130MM) SQ TELESCOPIC

3.032

90.0

3.543

130.0

5.118

144

28

2

✓
✓
✓
✓
SQT77150
Square Telescopic Tubes - 3X6-10 (77X150-250MM) SQ TELESCOPIC

3.032

150.0

5.906

250.0

9.843

96

19

1

✓
✓
✓
✓
SQT77275
Extendable Tube - 3X10-13/16-17-11/16 (77X275-450MM) SQ TELESCOPIC

3.032

275.0

10.827

450.0

17.717

54

10

1

✓
✓
✓
✓
Reference #
Description
To Fit Part Width

To Fit Part Length Min

To Fit Part Length Max


Box

/

Mini

/

Micro


QTY
STD
STD
w/msg
Hang
Hang
w/msg

Buy Online
Legend:
- Add to Basket - Buy now
- View Price

Round ( < 39mm) | Euroslot ( > 39mm )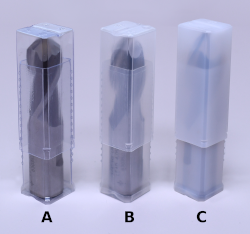 Material
( Clear / Transparent / Natural )
PVC (Poly Vinyl Chloride) (Clear)
PP (Polypropylene) (Transparent)
HDPE (High Density Polyethylene) (Natural)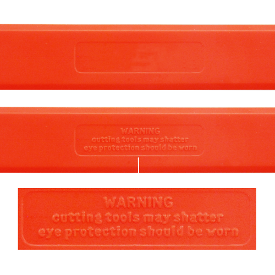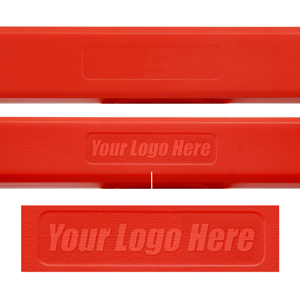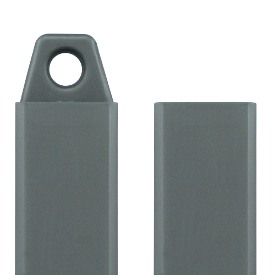 Square Telescopic Tubes - Information
Square Telescopic Tubes are a quick packaging solution designed for a wide variety of applications. The durable protective tubes provide an adjustable ratchet-length feature that allows for a secure, perfect fit at an affordable price. Multiple applications for square telescopic tubes include everything from packaging of tools, drills, taps, milling cutters, etc. in the cutting tool industry to retail and consumer packaging in the hobby, craft, electrode, office supply, fishing and dental industries. Hanger option is available for some dimensions. Telescopic tubes are an efficient and attractive packaging solution that can be re-used.


Telescopic tubes are available in transparent Polypropylene (PP). Additional colours and materials are available.
Contact Cleartec Packaging
for more information.