View Larger Image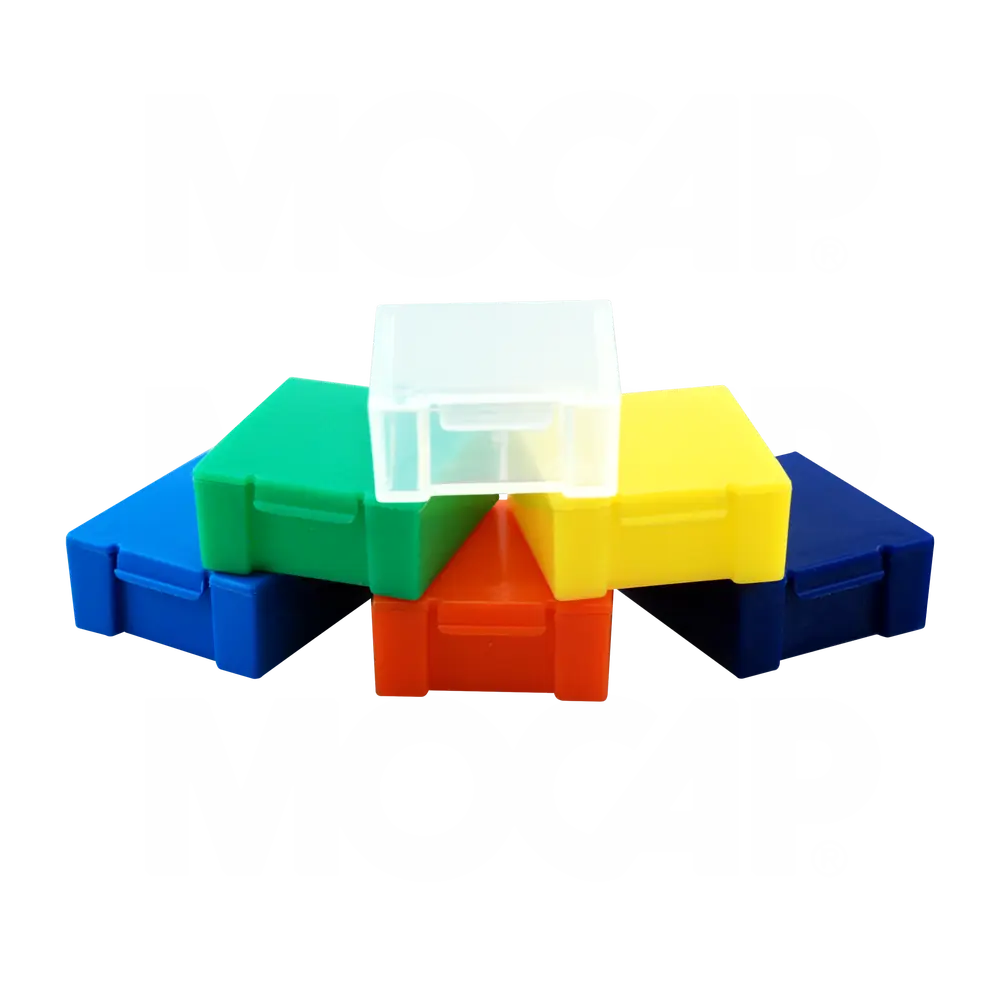 Material: PP (Polypropylene)
Stocked Material: PP (Transparent)
Durable, Reusable and Resistant to Contaminates and Moisture
Secure Snap Closure with Hinged Lid
Standard or Custom Foam Inserts Available
Reference #
Description
Inside Length

Inside Width

Inside Height
(base)

Inside Height
(lid)

Length

Outside Width

Outside Height


Box

/

Mini

/

Micro


QTY

Buy Online

MB26
Multi Boxes - 1X1X3/8 (26 x26x 10 mm) MULTI BOX PP

1.024

1.024

10.0

0.394

1.1

0.043

1.142

1.240

0.524

1000

200

20

MB34
Small Plastic Boxes with Hinged Lids - 1-5/16X1-5/16X1/2 (34x 34 x 13 mm) MULTI BOX PP

1.339

1.339

13.0

0.512

1.2

0.049

1.476

1.555

0.650

500

100

10

MB39
Small Plastic Storage Boxes - 1-1/2 X1-1/2X5/8 (38.5x38.5x 16 mm) MULTI BOX PP

1.516

1.516

16.0

0.630

1.2

0.049

1.654

1.772

0.783

450

90

9

MB51
Small Plastic Storage Boxes with Hinged Lids - 2X2X3/4 (51.5x51.5x19 mm) MULTI BOX PP

2.028

2.028

19.0

0.748

1.6

0.065

2.205

2.299

0.949

400

80

8

MB57
Mini Plastic Boxes - 2-1/4X2-1/4X7/8 (57.75 x 57.75x 22.5mm) MULTI BOX PP

2.274

2.274

22.5

0.886

1.7

0.067

2.469

2.579

1.087

400

80

8

MB76
Miniature Plastic Boxes - 3X3 X 1-3/16 (76.5x76.5x 30.5 mm) MULTI BOX PP

3.012

3.012

30.5

1.201

2.0

0.079

3.248

3.366

1.425

164

32

3

MB104
Threading Die Packaging - 4-3/32 X 2-1/8 X 5/8 (104x54x16.5 mm) MULTI BOX PP

4.093

2.125

16.5

0.650

1.6

0.065

4.280

2.323

0.787

240

48

4

MB132
Packaging for Ceramic Inserts - 5-3/16 X 3-1/4 X 1 (132x82.75x26mm) MULTI BOX PP

5.197

3.258

26.0

1.024

2.0

0.079

5.433

3.496

1.193

246

82

1

Reference #
Description
Inside Length

Inside Width

Inside Height
(base)

Inside Height
(lid)

Length

Outside Width

Outside Height


Box

/

Mini

/

Micro


QTY

Buy Online
Legend:
- Add to Basket - Buy now
- View Price
Multi Boxes - Information
Multi Boxes are unique mini boxes that can be used to package a wide variety of products from the cutting tool industry to the hobby and craft market.


These Mini plastic hinged boxes are just the right size to package grinding disks, diamond wheels, ceramic inserts, circular saw blades and side & face milling cutters. The optional custom cut-to-order foam inserts safely hold valuable/delicate items for the most secure and functional presentation. Optional plastic labels and direct printing add informational branding and logo recognition for value added advertising.
Universal use
Multi Boxes
are excellent for consumer and retail packaging applications for hobby, craft, office supply, hardware, medical, dental, electrical, fishing, hunting, laboratory and many more.
Multi Boxes
are available in transparent Polypropylene (PP) which is 100% recyclable. Additional colours available.
Contact Cleartec Packaging
for more information.