View Larger Image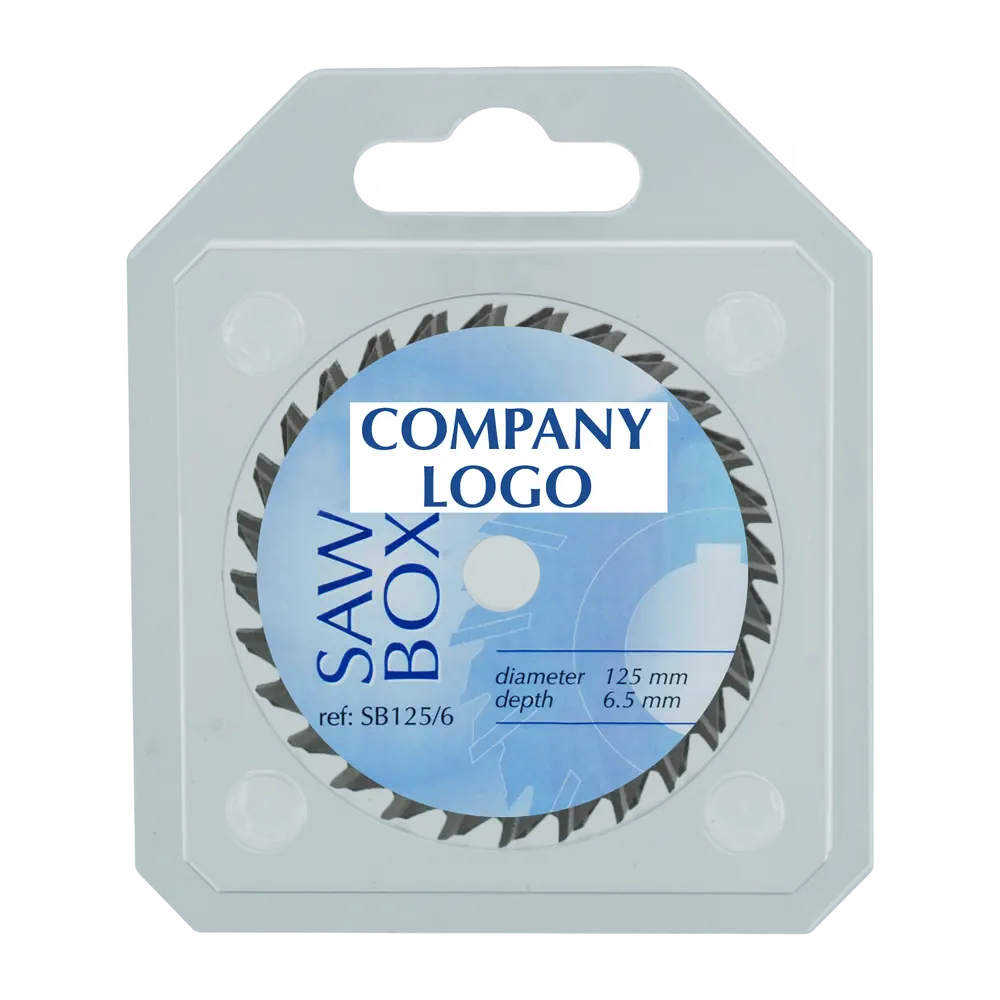 Material: PVC (Poly Vinyl Chloride)
Stocked Material: PVC (Clear)
Two-Piece Clear Package with Secure Press-Fit Closure
Provides Ideal Protection and Excellent Presentation
Great Visual Impact
Available With Foam Adaptor Rings
Available With Protective Foam Spacers
Reference #
Description
Outside Diam.

Saw Diameter

Centre Post Ø

Inside Height


Box

/

Mini

/

Micro


QTY

Buy Online

SBX05006
Saw Boxes - Saw Box 2 x 1/4 (50X6.5 MM) Lid and Base

2.087

1.969

5.0

0.197

6.5

0.256

600

120

12

SBX06306
Circular Saw Blade Packaging - Saw Box 2 1/2 x 1/4 (63X6.5 MM) Lid and Base

2.559

2.480

10.0

0.394

6.5

0.256

400

80

8

SBX08006
Plastic Packaging for Circular Saw Blades - Saw Box 3 x 1/4 (80X6.5 MM) Lid and Base

3.268

3.150

10.0

0.394

6.5

0.256

280

56

5

SBX10006
Plastic Packaging for Circular Blades - Saw Box 4 x 1/4 (100X6.5 MM) Lid and Base

4.134

3.937

10.0

0.394

6.5

0.256

320

64

6

SBX12506
Hanging Loop Packaging for Circular Saw Blades - Saw Box 5 x 1/4 (125X6.5 MM) Lid and Base

5.000

4.921

10.0

0.394

6.5

0.256

200

40

4

SBX16006
Diamond Wheel Packaging - Saw Box 6 x 1/4 (160X6.5 MM) Lid and Base

6.417

6.299

10.0

0.394

6.5

0.256

80

16

1

SBX20506
Carbide Disk Packaging - Saw Box 8 x 1/4 (205X6.5 MM) Lid and Base

8.189

8.071

10.0

0.394

6.5

0.256

65

13

1

SBX25506
Grinding wheel Packaging - Saw Box 10 x 1/4 (255X6.5 MM) Lid and Base

10.156

10.039

10.0

0.394

6.5

0.256

80

16

1

Reference #
Description
Outside Diam.

Saw Diameter

Centre Post Ø

Inside Height


Box

/

Mini

/

Micro


QTY

Buy Online
Legend:
- Add to Basket - Buy now
- View Price
Saw Boxes - Information
Saw Blade Boxes are an excellent packaging solution for circular cutting tools.


The clear boxes provide maximum visual impact combined with excellent graphic and labeling capabilities. Custom designed packaging offers protection for all types of circular saw blades, diamond wheels, carbide discs and grinding tools.
Unique foam adaptor rings and foam spacers provide the perfect secure fit.
Saw Boxes
are available in clear Poly Vinyl Chloride (PVC).
Contact Cleartec Packaging
for more information.