Heavy Wall Clear Plastic Tubes
THVY
View Larger Image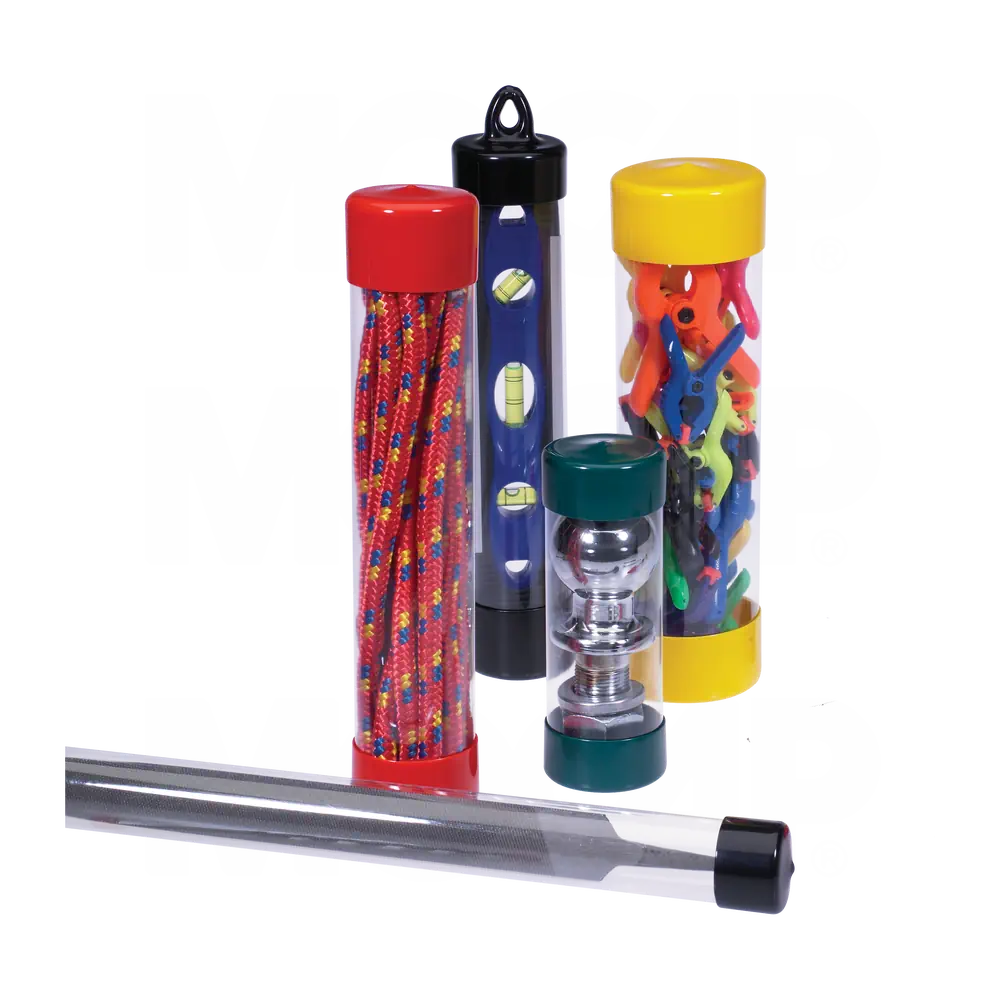 Material: PETG (Polyethylene Terephthalate Glycol)
Durable and Strong
Extruded and cut to the length you require for your application
Stocked in 900mm lengths and sold in box or mini-pack quantities
Several closure cap/plug styles to choose from (SOLD SEPARATELY)
Default
Reference #

Style

Description
Inside Diam.

Wall Thickness

Outside Diam.

Length

Stocked Length
mm

Box

/

Mini


QTY

Buy Online

1
CT4.9

THVY

UK Heavy Wall Clear Plastic Tubes 4.9MM X ?MM

0.194

0.5

0.020

0.234

-

900

500

50

2
CT7.1

THVY

UK Heavy Duty Plastic Tubes 7.1MM X ?MM

0.279

0.6

0.022

0.323

-

900

500

50

3
CT10.2

THVY

UK Heavy Duty Plastic Packaging Tubes 10.2MM X ?MM

0.401

0.6

0.022

0.445

-

900

350

50

4
CT13.4

THVY

UK Clear Plastic Packaging Tubes 13.4MM X ?MM

0.528

0.6

0.022

0.572

-

900

300

25

5
CT15.8

THVY

UK Strong Plastic Packaging Tubes 15.8MM X ?MM

0.621

0.6

0.022

0.665

-

900

250

25

6
CT17.7

THVY

UK Heavy Wall Round Tubes 17.7MM X ?MM

0.698

0.6

0.022

0.742

-

900

250

25

7
CT20.2

THVY

UK Thick Plastic Transparent Tubes 20.2MM X ?MM

0.794

0.6

0.022

0.838

-

900

250

25

8
CT21.9

THVY

UK Heavy Wall Clear Plastic Tubes 21.9MM X ?MM

0.862

0.6

0.022

0.906

-

900

200

25

9
CT23.7

THVY

UK Sturdy Transparent Tubular Packaging 23.7MM X ?MM

0.932

0.6

0.022

0.976

-

900

200

25

10
CT25.8

THVY

UK Heavy Wall Clear Plastic Tubes 25.8MM X ?MM

1.016

0.6

0.022

1.060

-

900

150

25

11
CT27.6

THVY

UK Heavy Duty Plastic Tubes 27.6MM X ?MM

1.087

0.6

0.022

1.131

-

900

150

25

12
CT29.0

THVY

UK Heavy Duty Plastic Packaging Tubes 29.0MM X ?MM

1.142

0.6

0.022

1.186

-

900

100

25

13
CT30.7

THVY

UK Clear Plastic Packaging Tubes 30.7MM X ?MM

1.209

0.6

0.022

1.253

-

900

100

25

14
CT34.4

THVY

UK Strong Plastic Packaging Tubes 34.4MM X ?MM

1.355

0.6

0.022

1.399

-

900

100

18

15
CT36.3

THVY

UK Heavy Wall Round Tubes 36.3MM X ?MM

1.430

0.6

0.022

1.474

-

900

85

15

16
CT38.7

THVY

UK Thick Plastic Transparent Tubes 38.7MM X ?MM

1.524

0.6

0.022

1.568

-

900

65

15

17
CT41.6

THVY

UK Heavy Wall Clear Plastic Tubes 41.6MM X ?MM

1.636

0.6

0.022

1.680

-

900

65

12

18
CT43.0

THVY

UK Sturdy Transparent Tubular Packaging 43.0MM X ?MM

1.694

0.7

0.028

1.750

-

900

60

10

19
CT45.8

THVY

UK Heavy Wall Clear Plastic Tubes 45.8MM X ?MM

1.804

0.7

0.028

1.860

-

900

55

8

20
CT48.6

THVY

UK Heavy Duty Plastic Tubes 48.6MM X ?MM

1.913

0.7

0.028

1.969

-

900

45

8

21
CT52.2

THVY

UK Heavy Duty Plastic Packaging Tubes 52.2MM X ?MM

2.054

0.7

0.028

2.110

-

900

45

8

22
CT54.8

THVY

UK Clear Plastic Packaging Tubes 54.8MM X ?MM

2.157

0.7

0.028

2.213

-

900

35

8

23
CT58.5

THVY

UK Strong Plastic Packaging Tubes 58.5MM X ?MM

2.304

0.7

0.028

2.360

-

900

35

6

24
CT64.9

THVY

UK Heavy Wall Round Tubes 64.9MM X ?MM

2.554

0.7

0.028

2.610

-

900

30

5

25
CT70.5

THVY

UK Thick Plastic Transparent Tubes 70.5MM X ?MM

2.774

0.7

0.028

2.830

-

900

25

3

26
CT78.0

THVY

UK Heavy Wall Clear Plastic Tubes 78.0MM X ?MM

3.071

0.8

0.032

3.135

-

900

20

3

27
CT90.3

THVY

UK Sturdy Transparent Tubular Packaging 90.3MM X ?MM

3.556

0.8

0.032

3.620

-

900

16

2

28
CT102.5

THVY

UK Heavy Wall Clear Plastic Tubes 102.5MM X ?MM

4.036

0.9

0.035

4.106

-

900

12

2

Default
Reference #

Style

Description
Inside Diam.

Wall Thickness

Outside Diam.

Length

Stocked Length
mm

Box

/

Mini


QTY

Buy Online
Legend:
- Add to Basket - Buy now
- View Price
* Specify length when ordering.

Tolerances
| Tube Size | | Wall Thickness | Length |
| --- | --- | --- | --- |
| 5mm - 70mm | ±.08 | ±.08 | ±1.6 |
| 70mm - 90mm | ±.13 | ±.08 | ±1.6 |
| > 90mm | ±.20 | | ±1.6 |
Cleartec's heavy wall clear plastic tubes offer the durability and clarity required to handle the packaging of cutting tools.
Durable and attractive, our vinyl caps are the suggested closure for our clear plastic heavy wall tubes. These caps are stocked in black, but other colours are available.
Heavy Wall Clear Plastic Tubes - Information
Our heavy wall clear plastic tube packaging is an ideal method for protecting heavy or fragile items such as welding rods, bearings, cutting tools, machined parts, medical devices or any items that require heavy-duty packaging.

Our tough heavy wall plastic tubes are reusable and offer unparalleled protection for your valuable merchandise.
The available closures and end caps that are available for our heavy wall tubes are
vinyl caps
and
vinyl hanger caps
.
In addition to packaging, these plastic tubes can be used as
clear plastic mailing tubes
, a part feeder and storage tube for automated assembly operations or even as a component part of your product.
Our heavy wall clear plastic tubes are:
Extruded and cut to the length you require for your application OR
Stocked in 900mm lengths and sold in box quantities.
Contact Cleartec Packaging
for more information.