Insert Boxes - Snap Pak
IBSP
View Larger Image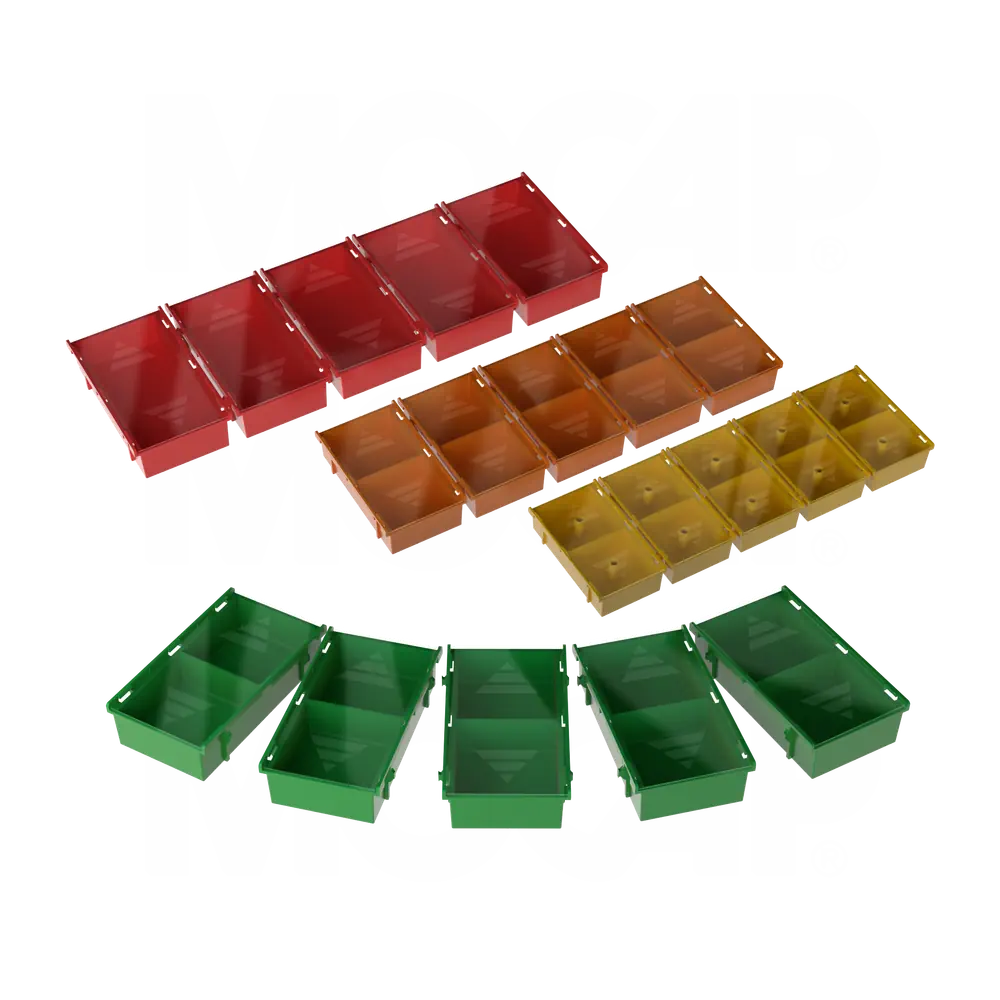 Material: ABS (Acrylonitrile butadiene styrene)
Stocked Material: LDPE (Mid Grey)
Simple Sliding Lid Opens in Either Direction
Featuring Five Connected Units That Can Be Individually Detached
Excellent for Stacking and Storing
Suitable for packaging items for vending machine sales
Available in Various Multi-Compartment Configurations
Reference #
Description
Image
Cell Count
# of Detachable Units
Inside Length

Inside Width

Inside Height

Outside Length

Outside Width

Outside Height


Box

/

Mini

/

Micro


QTY

Buy Online

IBSP05/E
Insert Boxes - Snap Pak - .71X1.46X.33 (18 X 37 X 8.5 MM) 5 CELL INSERT BOX SNAP PAK
5
5

1.457

0.709

8.5

0.335

133.2

5.244

1.583

0.488

500

100

10

IBSP10/EL
Insert Box Snap Pak's - .33X1.46X.33 (8.5 X 37 X 8.5 MM) 10 CELL INSERT BOX SNAP PAK
10
5

1.457

0.335

8.5

0.335

133.2

5.244

1.583

0.488

500

100

10

IBSP10/EW
Detachable Packaging for Carbide Inserts - .71X.71X.33 (18 X 18 X 8.5 MM) 10 CELL INSERT BOX SNAP PAK
10
5

0.709

0.709

8.5

0.335

133.2

5.244

1.583

0.488

500

100

10

IBSP10/EWP
Boxes for Ceramic Inserts - .71X.71X.33 (18 X 18 X 8.5 MM) 10 CELL INSERT BOX SNAP PAK
10
5

0.709

0.709

8.5

0.335

133.2

5.244

1.583

0.488

500

100

10

IBSP05/F
Diamond tools Compartment Boxes - 1.20X2.44X.51 (30.5 X 62 X 13 MM) 5 CELL INSERT BOX SNAP PAK
5
5

2.441

1.201

13.0

0.512

198.1

7.799

2.579

0.665

250

50

5

IBSP10/FL
Multi-compartment packaging for Grooving Inserts - .58X2.44X.51 (14.7 X 62 X 13 MM) 10 CELL INSERT BOX SNAP PAK
10
5

2.441

0.579

13.0

0.512

198.1

7.799

2.579

0.665

250

50

5

IBSP10/FW
HSS Inserts Packaging - 1.20X1.20X.51(30.5X30.5X13 MM) 10 CELL INSERT BOX SNAP PAK
10
5

1.201

1.201

13.0

0.512

198.1

7.799

2.579

0.665

250

50

5

IBSP10/FWP
Compartmental Packaging for Parting Inserts - 1.20X1.20X.51(30.5X30.5X13 MM) 10 CELL INSERT BOX SNAP PAK
10
5

1.201

1.201

13.0

0.512

198.1

7.799

2.579

0.665

250

50

5

Reference #
Description
Image
Cell Count
# of Detachable Units
Inside Length

Inside Width

Inside Height

Outside Length

Outside Width

Outside Height


Box

/

Mini

/

Micro


QTY

Buy Online
Legend:
- Add to Basket - Buy now
- View Price
Insert Boxes - Snap Pak - Information
Insert Box Snap Paks are the ideal packaging solution for high quality carbide blade inserts as well as any small delicate set of items that require individual compartmental storage. Each 'Pak' is made up of 5 individual detachable units, perfect for both multiple and single item packaging.


Transparent lid offers secure center locking position with quick, simple sliding opening/closing in either direction. The
Insert Box Snap Paks
conveniently stack together and are re-useable.
Our
Insert Box Snap Paks
are stocked in Gray ABS material with Clear ABS lid. Custom colors available.
This product can be used to package a wide variety of tooling inserts:
Tungsten Carbide Inserts
Ceramic Inserts
Diamond tools
Grooving Inserts
HSS Inserts
Indexable milling inserts
ISO turning inserts
Lancing inserts
Multi-tooth inserts
Parting Inserts
Thread milling cutters
Thread milling inserts
Thread turning inserts
Contact Cleartec Packaging
for more information.