View Larger Image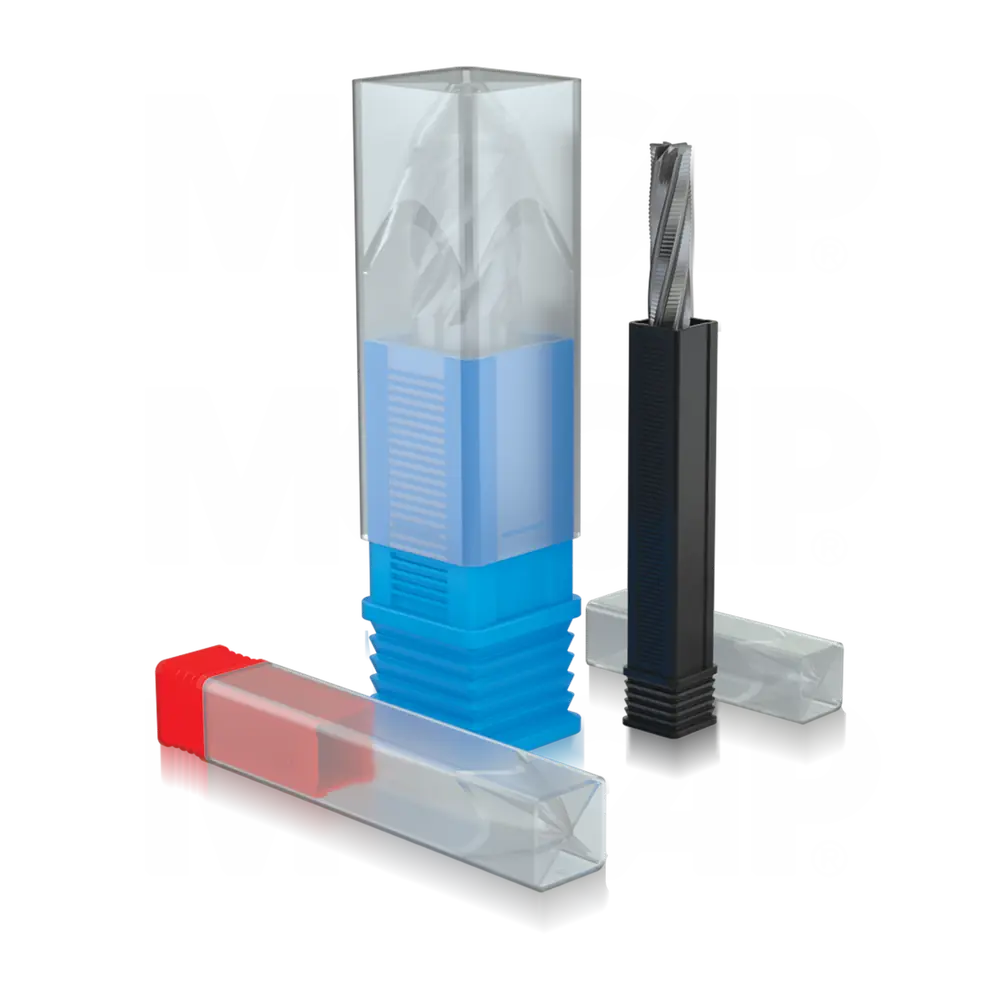 Material: PP (Polypropylene) (Various Colours), PP (Polypropylene) (Clarified)
Stocked Material: PP (Black), PP (Blue (Light)), PP (Blue (Mid)), PP (Red), PP (Orange), PP (Clarified)
Caps are only stocked in clear polypropylene material, but may be paired with any colour base.
Rounded corners allow for easy label application
Center Plug and Beveled Cap Hold Tool in Place at Both Ends
Expanded selection of lengths to meet industry demands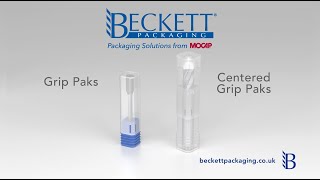 Reference #
Description
To Suit Tool Diameter Min

To Suit Tool Diameter Max

To Fit Tool Length Min

To Fit Tool Length Max


Box

/

Mini

/

Micro


QTY

Buy Online

GRCK060049
Centre Grip Pak - 5/16" X 1-15/16" (8MM X 49MM) GRIP PAK CENTERED KIT

3.0

0.118

8.0

0.314

38.1

1.500

49.0

1.930

1000

200

20

GRCK060055
Grip Pak Centre Packaging - 5/16" X 2-3/16" (8MM X 55MM) GRIP PAK CENTERED KIT

3.0

0.118

8.0

0.314

43.9

1.730

55.1

2.170

1000

200

20

GRCK060073
Grip Pak - 5/16" X 2-7/8" (8MM X 73MM) GRIP PAK CENTERED KIT

3.0

0.118

8.0

0.314

62.0

2.440

72.9

2.870

1000

200

20

GRCK060090
Grip Pack Centers - 5/16" X 3-9/16" (8MM X 90MM) GRIP PAK CENTERED KIT

3.0

0.118

8.0

0.314

80.0

3.150

89.9

3.540

1000

200

20

GRCK060114
Solid Carbide Cutting Tool Packaging - 5/16" X 4-1/2" (8MM X 114MM) GRIP PAK CENTERED KIT

3.0

0.118

8.0

0.314

103.9

4.090

114.0

4.490

1000

200

20

GRCK060163
Packaging for Shank Tools - 5/16" X 6-7/16" (8MM X 163MM) GRIP PAK CENTERED KIT

3.0

0.118

8.0

0.314

104.9

4.130

163.1

6.420

1000

200

20

GRCK060180
Retail Packaging for Milling Cutters - 5/16" X 7-1/16" (8MM X 180MM) GRIP PAK CENTERED KIT

3.0

0.118

8.0

0.314

118.1

4.650

180.1

7.090

1000

200

20

GRCK060135
Grip Pak Centered - 5/16" X 5-5/16" (8MM X 135MM) GRIP PAK CENTERED KIT

3.0

0.118

8.0

0.314

125.0

4.920

134.9

5.310

1000

200

20

GRCK060185
Grip Pak Centre Packaging - 5/16" X 7-1/4" (8MM X 185MM) GRIP PAK CENTERED KIT

3.0

0.118

8.0

0.314

180.1

7.090

184.9

7.280

1000

200

20

GRCK060240
Centre Grip Pak - 5/16" X 9-7/16" (8MM X 240MM) GRIP PAK CENTERED KIT

3.0

0.118

8.0

0.314

181.1

7.130

240.0

9.450

1000

200

20

GRCK100084
Grip Pak Centre Packaging - 3/8" X 3-5/16" (10MM X 84MM) GRIP PAK CENTERED KIT

7.9

0.313

10.0

0.392

58.9

2.320

84.1

3.310

500

100

10

GRCK100108
Grip Pak - 3/8" X 4-1/4" (10MM X 108MM) GRIP PAK CENTERED KIT

7.9

0.313

10.0

0.392

84.1

3.310

108.0

4.250

500

100

10

GRCK120086
Grip Pack Centers - 1/2" X 3-3/8" (13MM X 86MM) GRIP PAK CENTERED KIT

7.9

0.313

13.2

0.519

62.0

2.440

86.1

3.390

500

100

10

GRCK120113
Solid Carbide Cutting Tool Packaging - 1/2" X 4-7/16" (13MM X 113MM) GRIP PAK CENTERED KIT

7.9

0.313

13.2

0.519

88.9

3.500

113.0

4.450

500

100

10

GRCK120190
Packaging for Shank Tools - 1/2" X 7-1/2" (13MM X 190MM) GRIP PAK CENTERED KIT

7.9

0.313

13.2

0.519

122.9

4.840

190.0

7.480

500

100

10

GRCK120140
Retail Packaging for Milling Cutters - 1/2" X 5-1/2" (13MM X 140MM) GRIP PAK CENTERED KIT

7.9

0.313

13.2

0.519

124.0

4.880

140.0

5.510

500

100

10

GRCK120201
Grip Pak Centered - 1/2" X 7-15/16" (13MM X 201MM) GRIP PAK CENTERED KIT

7.9

0.313

13.2

0.519

181.1

7.130

200.9

7.910

500

100

10

GRCK120254
Grip Pak Centre Packaging - 1/2" X 10" (13MM X 254MM) GRIP PAK CENTERED KIT

7.9

0.313

13.2

0.519

181.1

7.130

254.0

10.000

500

100

10

GRCK160084
Centre Grip Pak - 5/8" X 3-5/16" (16MM X 84MM) GRIP PAK CENTERED KIT

13.2

0.519

15.9

0.627

59.9

2.360

84.1

3.310

500

100

10

GRCK160089
Grip Pak Centre Packaging - 5/8" X 3-1/2" (16MM X 89MM) GRIP PAK CENTERED KIT

13.2

0.519

15.9

0.627

65.0

2.560

88.9

3.500

500

100

10

GRCK160107
Grip Pak - 5/8" X 4-3/16" (16MM X 107MM) GRIP PAK CENTERED KIT

13.2

0.519

15.9

0.627

86.1

3.390

106.9

4.210

500

100

10

GRCK160135
Grip Pack Centers - 5/8" X 5-5/16" (16MM X 135MM) GRIP PAK CENTERED KIT

13.2

0.519

15.9

0.627

114.0

4.490

134.9

5.310

500

100

10

GRCK160200
Solid Carbide Cutting Tool Packaging - 5/8" X 7-7/8" (16MM X 200MM) GRIP PAK CENTERED KIT

13.2

0.519

15.9

0.627

134.1

5.280

199.9

7.870

500

100

10

GRCK200110
Packaging for Shank Tools - 13/16" X 4-5/16" (20MM X 110MM) GRIP PAK CENTERED KIT

15.9

0.625

19.9

0.784

80.0

3.150

110.0

4.330

500

100

10

GRCK200114
Retail Packaging for Milling Cutters - 13/16" X 4-1/2" (20MM X 114MM) GRIP PAK CENTERED KIT

15.9

0.625

19.9

0.784

88.9

3.500

114.0

4.490

500

100

10

GRCK200139
Grip Pak Centered - 13/16" X 5-1/2" (20MM X 139MM) GRIP PAK CENTERED KIT

15.9

0.625

19.9

0.784

114.0

4.490

138.9

5.470

500

100

10

GRCK200166
Grip Pak Centre Packaging - 13/16" X 6-9/16" (20MM X 166MM) GRIP PAK CENTERED KIT

15.9

0.625

19.9

0.784

141.0

5.550

166.1

6.540

500

100

10

GRCK200230
Centre Grip Pak - 13/16" X 9-1/16" (20MM X 230MM) GRIP PAK CENTERED KIT

15.9

0.625

19.9

0.784

166.1

6.540

230.1

9.060

500

100

10

GRCK260182
Grip Pak Centre Packaging - 1" X 7-3/16" (26MM X 182MM) GRIP PAK CENTERED KIT

19.1

0.750

25.9

1.020

134.9

5.310

182.1

7.170

250

50

5

GRCK260229
Grip Pak - 1" X 9" (26MM X 229MM) GRIP PAK CENTERED KIT

19.1

0.750

25.9

1.020

182.1

7.170

229.1

9.020

250

50

5

Reference #
Description
To Suit Tool Diameter Min

To Suit Tool Diameter Max

To Fit Tool Length Min

To Fit Tool Length Max


Box

/

Mini

/

Micro


QTY

Buy Online
Legend:
- Add to Basket - Buy now
- View Price
Centre Grip Pak - Information
Our NEW and REDESIGNED Centre Grip Pak containers provide individual packaging for milling cutters, drills, solid carbide tooling and other cutting tools. They provide ideal protection and excellent presentation display by centering the tool regardless of the diameter.


The center plug and beveled cap of our
Centre Grip Pak
container holds the tool in place at both ends, while the heavier wall thickness allows for a secure, perfect fit.
Ratchet-style length adjustment ensures extensive use on tools with different dimensions.
MOCAP
Centre Grip Pak
containers can be used to package a wide variety of parts:
Solid Carbide Cutting Tools
Drills
Milling Cutters
Shank Tools
Centre Grip Pak
bases are manufactured in High-Impact Polypropylene (PP) and the clear caps are manufactured in High-Impact Clarified Polypropylene (PP).
Contact Cleartec Packaging
for more information.