View Larger Image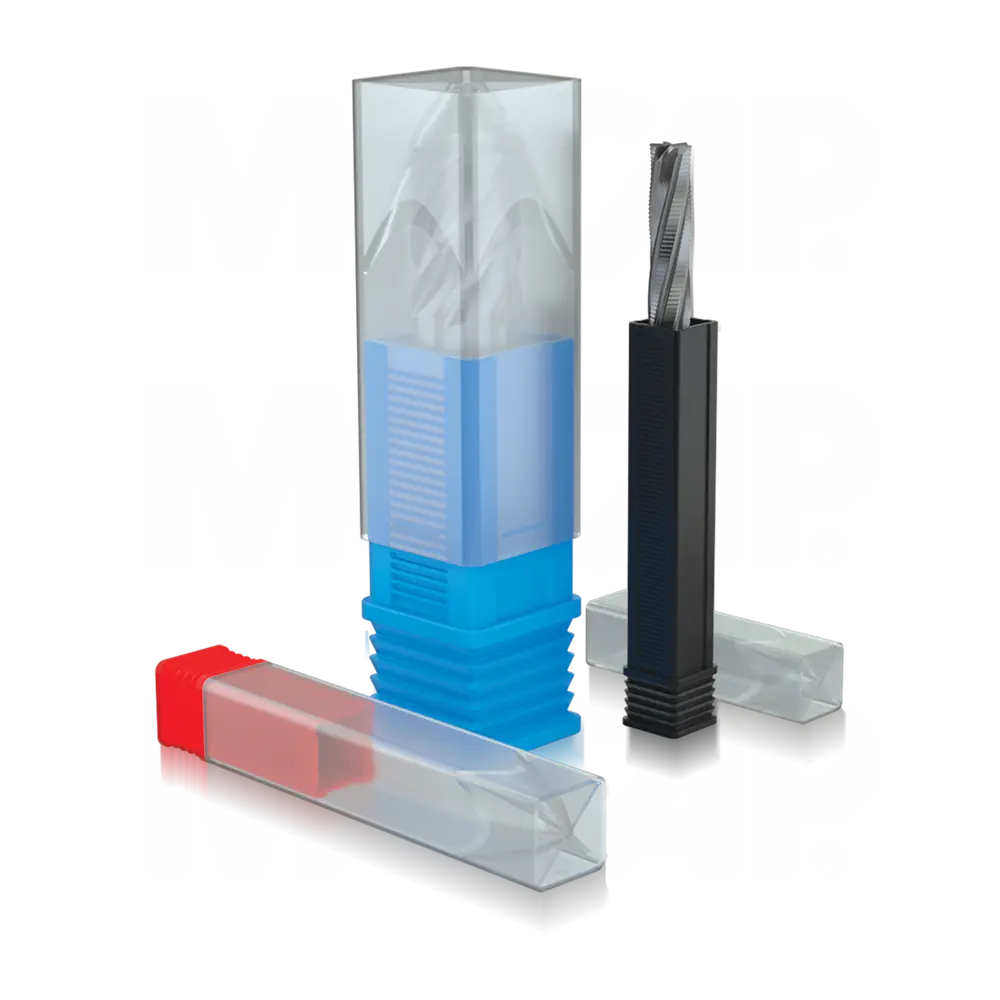 Material: PP (Polypropylene)
Stocked Material: PP (Transparent)
Durable, Reusable and Resistant to Contaminates and Moisture
Center Plug and Beveled Cap Hold Tool in Place at Both Ends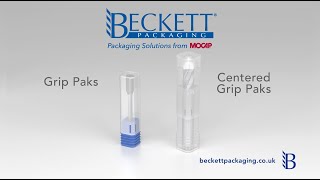 Reference #
Description
To Suit Tool Diameter Min

To Suit Tool Diameter Max

To Fit Tool Length Min

To Fit Tool Length Max


Buy Online

GRCK080064
Centre Grip Pak - 5/16 X 2.5 (8 X 64MM) GRIP PAK CENTERED KIT

2.6

0.102

8.0

0.315

50.0

1.969

64.0

2.520

GRCK080076
Grip Pak Centered Packaging - 5/16 X 3.0 (8 X 76MM) GRIP PAK CENTERED KIT

2.6

0.102

8.0

0.315

64.0

2.520

76.0

2.992

GRCK100064
Grip Pak - 3/8 X 2.5 (10 X 64MM) GRIP PAK CENTERED KIT

7.1

0.280

10.0

0.394

50.0

1.969

64.0

2.520

GRCK100076
Grip Pack Centers - 3/8 X 3.00 (10 X 76MM) GRIP PAK CENTERED KIT

7.1

0.280

10.0

0.394

64.0

2.520

76.0

2.992

GRCK100102
Solid Carbide Cutting Tool Packaging - 3/8 X 4.00 (10 X 102MM) GRIP PAK CENTERED KIT

7.1

0.280

10.0

0.394

76.0

2.992

102.0

4.016

GRCK130084
Packaging for Shank Tools - 1/2 X 3.25 (13 X 84MM) GRIP PAK CENTERED KIT

10.1

0.398

12.8

0.504

63.0

2.480

84.0

3.307

GRCK130105
Retail Packaging for Milling Cutters - 1/2 X 4.25 (13 X 105MM) GRIP PAK CENTERED KIT

10.1

0.398

12.8

0.504

89.0

3.504

105.0

4.134

GRCK130125
Grip Pak Centered - 1/2 X 5.00 (13 X 125MM) GRIP PAK CENTERED KIT

10.1

0.398

12.8

0.504

100.0

3.937

125.0

4.921

GRCK130152
Grip Pak Centered Packaging - 1/2 X 6.00 (13 X 152MM) GRIP PAK CENTERED KIT

10.1

0.398

12.8

0.504

120.0

4.724

152.0

5.984

GRCK160076
Centre Grip Pak - 5/8 X 3.00 (16 X 76MM) GRIP PAK CENTERED KIT

12.7

0.500

16.5

0.650

63.0

2.480

76.0

2.992

GRCK160102
Grip Pak Centered Packaging - 5/8 X 4.00 (16 X 102MM) GRIP PAK CENTERED KIT

12.7

0.500

16.5

0.650

76.0

2.992

102.0

4.016

GRCK160127
Grip Pak - 5/8 X 5.00 (16 X 127MM) GRIP PAK CENTERED KIT

12.7

0.500

16.5

0.650

105.0

4.134

127.0

5.000

GRCK160152
Grip Pack Centers - 5/8 X 6.00 (16 X 152MM) GRIP PAK CENTERED KIT

12.7

0.500

16.5

0.650

130.0

5.118

152.0

5.984

GRCK200102
Solid Carbide Cutting Tool Packaging - 3/4 X 2.63 (20 X 67MM) GRIP PAK CENTERED KIT

16.7

0.657

20.5

0.807

76.0

2.992

102.0

4.016

GRCK200130
Packaging for Shank Tools - 3/4 X 3.78 (20 X 96MM) GRIP PAK CENTERED KIT

16.7

0.657

20.5

0.807

104.0

4.094

130.0

5.118

GRCK200155
Retail Packaging for Milling Cutters - 3/4 X 4.92 (20 X 125MM) GRIP PAK CENTERED KIT

16.7

0.657

20.5

0.807

133.0

5.236

155.0

6.102

GRCK250127
Grip Pak Centered - 1 X 5.00 (25 X 127MM) GRIP PAK CENTERED KIT

21.7

0.854

26.0

1.024

100.0

3.937

127.0

5.000

GRCK250165
Grip Pak Centered Packaging - 1 X 6.50 (25 X 165MM) GRIP PAK CENTERED KIT

21.7

0.854

26.0

1.024

140.0

5.512

165.0

6.496

Reference #
Description
To Suit Tool Diameter Min

To Suit Tool Diameter Max

To Fit Tool Length Min

To Fit Tool Length Max


Buy Online
Legend:
- Add to Basket - Buy now
- View Price
Centre Grip Pak - Information
Our NEW Grip-Pak Centered containers provide individual packaging for milling cutters, drills, solid carbide tooling and other cutting tools. They provide ideal protection and excellent presentation display by centering the tool regardless of the diameter.


The center plug and beveled cap of our
Grip-Pak Centered
container holds the tool in place at both ends, while the heavier wall thickness allows for a secure, perfect fit.
Ratchet-style length adjustment ensures extensive use on tools with different dimensions.
MOCAP
Grip-Pak Centered
containers can be used to package a wide variety of parts:
Solid Carbide Cutting Tools
Drills
Milling Cutters
Shank Tools
Grip-Pak Centered
containers are manufactured in Clarified Polypropylene (PP).
Contact Cleartec Packaging
for more information.