View Larger Image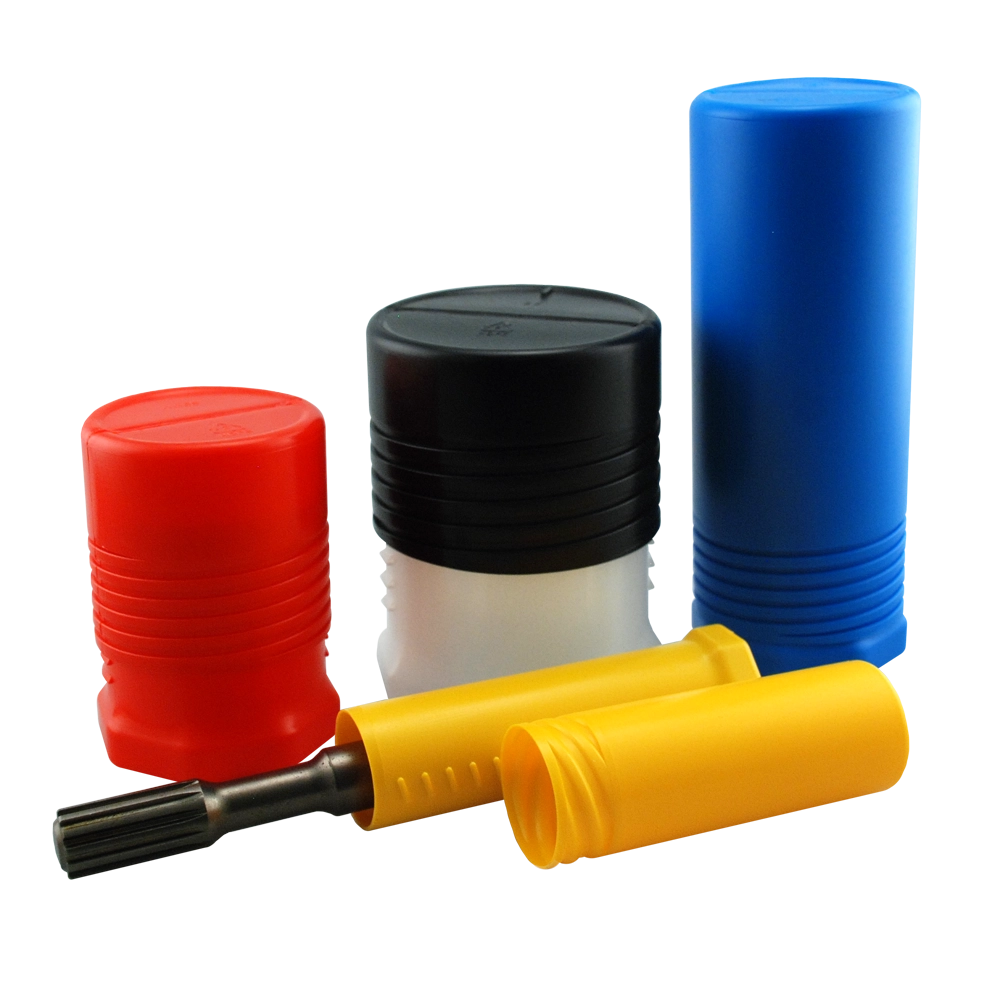 Material: PP (Polypropylene), HDPE (High Density Polyethylene), PVC (Poly Vinyl Chloride)
Stocked Material: PP (Transparent)
Durable, Reusable and Resistant to Contaminates and Moisture
Adjustable Telescopic Length
Secure Twist Style Closure
Available With or Without Hanger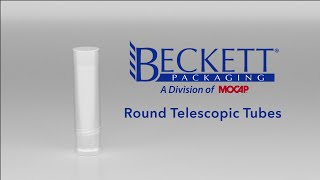 Reference #
Description
Style
Inside Diam.

To Fit Part Length Min

To Fit Part Length Max


Box

/

Mini

/

Micro


QTY
STD
Hang

Buy Online

RT012080
Round Tubes - 1/2X3-1/8-5 (12X80-125) ROUND TELESCOPIC
R

0.472

80.0

3.150

125.0

4.921

1900

380

38

✓
✓
RT012090
Protective Packaging Tube - 1/2X3-1/2-5-3/4 (12X125-145) ROUND TELESCOPIC
R

0.472

125.0

4.921

145.0

5.709

1500

300

30

✓
✓
RT012125
Round Telescopic Tube - 1/2X5-8-1/2 (12x125-215) ROUND TELESCOPIC
R

0.472

125.0

4.921

215.0

8.465

1000

200

20

✓
✓
RT022060
Adjustable Length Plastic Tube - 7/8X2-3/8-3-1/8 (22X60-80) ROUND TELESCOPIC
T

0.866

60.0

2.362

80.0

3.150

900

180

18

✓
✓
RT022080
Variable Length Round Tube - 7/8X3-1/8-4-3/4 (22X80-120) ROUND TELESCOPIC
T

0.866

80.0

3.150

120.0

4.724

700

140

14

✓
✓
RT022120
Round Ratchet Length Tube - 7/8X4-3/4-7-7/8 (22X120-200) ROUND TELESCOPIC
T

0.866

120.0

4.724

200.0

7.874

1000

200

20

✓
✓
RT022200
Round Telescopic Screw Tubes - 7/8X7-7/8-13-3/4 (22X200-350) ROUND TELESCOPIC
T

0.866

200.0

7.874

350.0

13.780

450

90

9

✓
✓
RT022350
Round Packaging Tube - 7/8X13-3/4-24-3/4 (22X350-630) ROUND TELESCOPIC
T

0.866

350.0

13.780

630.0

24.803

420

84

8

✓
✓
RT022670
Round Extendable Tube - 7/8X26-3/8-36-1/4 (22X670-920) ROUND TELESCOPIC
T

0.866

670.0

26.378

920.0

36.220

--

--

--

✓
✓
RT026080
Round Tubes - 1X3-1/8-4-3/4 (26X80-120) ROUND TELESCOPIC
T

1.024

80.0

3.150

120.0

4.724

1200

240

24

✓
✓
RT026120
Protective Packaging Tube - 1X4-3/4-7-7/8 (26X120-200) ROUND TELESCOPIC
T

1.024

120.0

4.724

200.0

7.874

700

140

14

✓
✓
RT026200
Round Telescopic Tube - 1X7-7/8-13-3/4 (26X200-350) ROUND TELESCOPIC
T

1.024

200.0

7.874

350.0

13.780

500 - 550

110

11

✓
✓
RT026350
Adjustable Length Plastic Tube - 1X13-3/4-24-3/4 (26X350-630) ROUND TELESCOPIC
T

1.024

350.0

13.780

630.0

24.803

320

64

6

✓
✓
RT026670
Variable Length Round Tube - 1X26-3/8-36-1/4 (26X670-920) ROUND TELESCOPIC
T

1.024

670.0

26.378

920.0

36.220

320

--

--

✓
✓
RT028060
Round Ratchet Length Tube - 1-1/8X2-3/8-3-1/8 (28X60-80) ROUND TELESCOPIC
T

1.102

60.0

2.362

80.0

3.150

600

120

12

✓
RT032080
Round Telescopic Screw Tubes - 1-1/4X3-1/8-4-3/4 (32X80-120) ROUND TELESCOPIC
T

1.260

80.0

3.150

120.0

4.724

800

160

16

✓
✓
RT032120
Round Packaging Tube - 1-1/4X4-3/4-7-7/8 (32X120-200) ROUND TELESCOPIC
T

1.260

120.0

4.724

200.0

7.874

500

100

10

✓
✓
RT032200
Round Extendable Tube - 1-1/4X7-7/8-13-3/4 (32X200-350) ROUND TELESCOPIC
T

1.260

200.0

7.874

350.0

13.780

370

74

7

✓
✓
RT040080
Round Tubes - 1-1/2X3-1/8-4-3/4 (40X80-120) ROUND TELESCOPIC
T

1.575

80.0

3.150

120.0

4.724

550

110

11

✓
✓
RT040120
Protective Packaging Tube - 1-1/2X4-3/4-7-7/8 (40X120-200) ROUND TELESCOPIC
T

1.575

120.0

4.724

200.0

7.874

384

76

7

✓
✓
RT040200
Round Telescopic Tube - 1-1/2X7-7/8-13-3/4 (40X200-350) ROUND TELESCOPIC
T

1.575

200.0

7.874

350.0

13.780

256

51

5

✓
✓
RT040350
Adjustable Length Plastic Tube - 1-1/2X13-3/4-24-3/4 (40X350-630) ROUND TELESCOPIC
T

1.575

350.0

13.780

630.0

24.803

130

26

2

✓
✓
RT040670
Variable Length Round Tube - 1-1/2X26-3/8-36-1/4 (40X670-920) ROUND TELESCOPIC
T

1.575

670.0

26.378

920.0

36.220

--

--

--

✓
✓
RT045060
Round Ratchet Length Tube - 1-3/4X2-3/8-3-1/8 (45X60-80) ROUND TELESCOPIC
T

1.772

60.0

2.362

80.0

3.150

616

123

12

✓
RT045080
Round Telescopic Screw Tubes - 1-3/4X3-1/8-4-3/4 (45X80-120) ROUND TELESCOPIC
T

1.772

80.0

3.150

120.0

4.724

462

92

9

✓
RT045120
Round Packaging Tube - 1-3/4X4-3/4-7-7/8 (45X120-200) ROUND TELESCOPIC
T

1.772

120.0

4.724

200.0

7.874

308

61

6

✓
RT045200
Round Extendable Tube - 1-3/4X7-7/8-13-3/4 (45X200-350) ROUND TELESCOPIC
T

1.772

200.0

7.874

350.0

13.780

196

39

3

✓
RT045350
Round Tubes - 1-3/4X13-3/4-24-3/4 (45X350-630) ROUND TELESCOPIC
T

1.772

350.0

13.780

630.0

24.803

110

22

2

✓
RT052060
Protective Packaging Tube - 2X2-3/8-3-1/8 (52X60-80) ROUND TELESCOPIC
T

2.047

60.0

2.362

80.0

3.150

480

96

9

✓
✓
RT052080
Round Telescopic Tube - 2X3-1/8-4-3/4 (52X80-120) ROUND TELESCOPIC
T

2.047

80.0

3.150

120.0

4.724

350

70

7

✓
✓
RT052120
Adjustable Length Plastic Tube - 2X4-3/4-7-7/8 (52X120-200) ROUND TELESCOPIC
T

2.047

120.0

4.724

200.0

7.874

240

48

4

✓
✓
RT052200
Variable Length Round Tube - 2X7-7/8-13-3/4 (52X200-350) ROUND TELESCOPIC
T

2.047

200.0

7.874

350.0

13.780

135

27

2

✓
✓
RT052350
Round Ratchet Length Tube - 2X13-3/4-24-3/4 (52X350-630) ROUND TELESCOPIC
T

2.047

350.0

13.780

630.0

24.803

80

16

1

✓
✓
RT052670
Round Telescopic Screw Tubes - 2X26-3/8-36-1/4 (52X670-920) ROUND TELESCOPIC
T

2.047

670.0

26.378

920.0

36.220

--

--

--

✓
✓
RT055060
Round Packaging Tube - 2-1/8X2-3/8-3-1/8 (55X60-80) ROUND TELESCOPIC
T

2.165

60.0

2.362

80.0

3.150

432

86

8

✓
RT055080
Round Extendable Tube - 2-1/8X3-1/8-4-3/4 (55X80-120) ROUND TELESCOPIC
T

2.165

80.0

3.150

120.0

4.724

324

64

6

✓
RT055120
Round Tubes - 2-1/8X4-3/4-7-7/8 (55X120-200) ROUND TELESCOPIC
T

2.165

120.0

4.724

200.0

7.874

216

43

4

✓
RT055200
Protective Packaging Tube - 2-1/8X7-7/8-13-3/4 (55X200-350) ROUND TELESCOPIC
T

2.165

200.0

7.874

350.0

13.780

140

28

2

✓
RT055350
Round Telescopic Tube - 2-1/8X13-3/4-24-3/4 (55X350-630) ROUND TELESCOPIC
T

2.165

350.0

13.780

630.0

24.803

72

14

1

✓
RT065080
Adjustable Length Plastic Tube - 2-1/2X3-1/8-4-3/4 (65X80-120) ROUND TELESCOPIC
T

2.559

80.0

3.150

120.0

4.724

240

48

4

✓
✓
RT065111
Variable Length Round Tube - 2-1/2X4-3/8-7 (65X111-177) ROUND TELESCOPIC
T

2.559

111.0

4.370

177.0

6.969

175

35

3

✓
✓
RT065187
Round Ratchet Length Tube - 2-1/2X7-3/8-12-3/4 (65X187-324) ROUND TELESCOPIC
T

2.559

187.0

7.362

324.0

12.756

110

22

2

✓
✓
RT085080
Round Telescopic Screw Tubes - 3-3/8x3-1/8-4-1/8 (85x80-105) ROUND TELESCOPIC
T

3.346

80.0

3.150

105.0

4.134

144

28

2

✓
✓
RT085120
Round Packaging Tube - 3-3/8X4-3/4-7-1/4 (85X120-185) ROUND TELESCOPIC
T

3.346

120.0

4.724

185.0

7.283

96

19

1

✓
✓
RT085200
Round Extendable Tube - 3-3/8X7-7/8-13-1/2 (85X200-345) ROUND TELESCOPIC
T

3.346

200.0

7.874

345.0

13.583

60

12

1

✓
✓
RT085350
Round Tubes - 3-3/8X13-3/4-24-3/4 (85X350-630) ROUND TELESCOPIC
T

3.346

350.0

13.780

630.0

24.803

33

6

1

✓
✓
RT085670
Protective Packaging Tube - 3-3/8X26-3/8-36-1/4 (85X670-920) ROUND TELESCOPIC
T

3.346

670.0

26.378

920.0

36.220

--

--

--

✓
✓
RT105080
Round Telescopic Tube - 4-1/8X3-1/8-4 (105X80-100) ROUND TELESCOPIC
T

4.134

80.0

3.150

100.0

3.937

90

18

1

✓
✓
RT105136
Adjustable Length Plastic Tube - 4-1/8X5-3/8-8-3/8 (105X136-214) ROUND TELESCOPIC
T

4.134

136.0

5.354

214.0

8.425

54

10

1

✓
✓
RT105200
Variable Length Round Tube - 4-1/8X7-7/8-13-3/4 (105X200-345) ROUND TELESCOPIC
T

4.134

200.0

7.874

345.0

13.583

36

7

1

✓
✓
RT105330
Round Ratchet Length Tube - 4-1/8X13-21-5/8 (105X330-550) ROUND TELESCOPIC
T

4.134

330.0

12.992

550.0

21.654

20

4

1

✓
✓
Reference #
Description
Style
Inside Diam.

To Fit Part Length Min

To Fit Part Length Max


Box

/

Mini

/

Micro


QTY
STD
Hang

Buy Online
Legend:
- Add to Basket - Buy now
- View Price
R = Ratchet-Style Length Adjustment
T = Twist-Style Length Adjustment

Round ( < 29mm) | Euroslot ( > 29mm )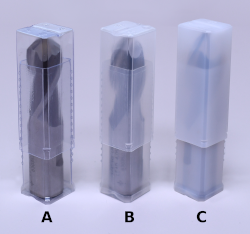 Material
( Clear / Transparent / Natural )
PVC (Poly Vinyl Chloride) (Clear)
PP (Polypropylene) (Transparent)
HDPE (High Density Polyethylene) (Natural)
Round Tubes - Information
Our Round Telescopic Tubes are designed for a secure packaging solution for a wide variety of applications. The durable protective tubes provide an adjustable telescopic screw mechanism length feature that allows for a secure, perfect fit. Applications for round telescopic tubes include everything from packaging of tools, drills, taps, milling cutters, etc. in the cutting tool industry to retail and consumer packaging in the hobby, craft, electrode, office supply, fishing and dental industries. An optional hanger is offered for some dimensions for appealing hanging presentation. Telescopic tubes are an efficient and attractive packaging solution that can be re-used.


Telescopic Tubes
are also available in Square, Rectangle and extra durable RB Boxes.
Round Telescopic Tubes are available in transparent Polypropylene (PP) and natural High Density Polyethylene (HDPE) for larger diameters.. Additional colours and materials are available.
Most sizes (except the smallest size, RT012) feature a twist-style adjustable length. The RT012 has a ratchet-style adjustment, similar to our other telescopic tube lines.
Contact Cleartec Packaging
for more information.